This Week's Press Coverage…
PRODUCT & INDUSTRY
MSN Autos: Most Beautiful Maseratis ever
Race cars, road cars, GTs, supercars: Maserati has made them all. Celebrating its 100th anniversary this year, this legendary marque is being honored at the 2014 Pebble Beach Concours d'Elegance. To mark this significant milestone, we've come up with a list the 15 most beautiful vehicles to bear the Trident logo.
C for Men Magazine: The Italian Job
And how better to match the need for speed in menswear than with a fast car? In honor of Maserati's centennial anniversary, they collaborated with Zegna on the 100 Maserati Quattroporte sedans, equipped with V8 twin-turbo engines… the cars also come with a well-appointed Owner's Collection- leather travel bags, sunglasses and an exclusive Zegna silk fabric. Full speed ahead.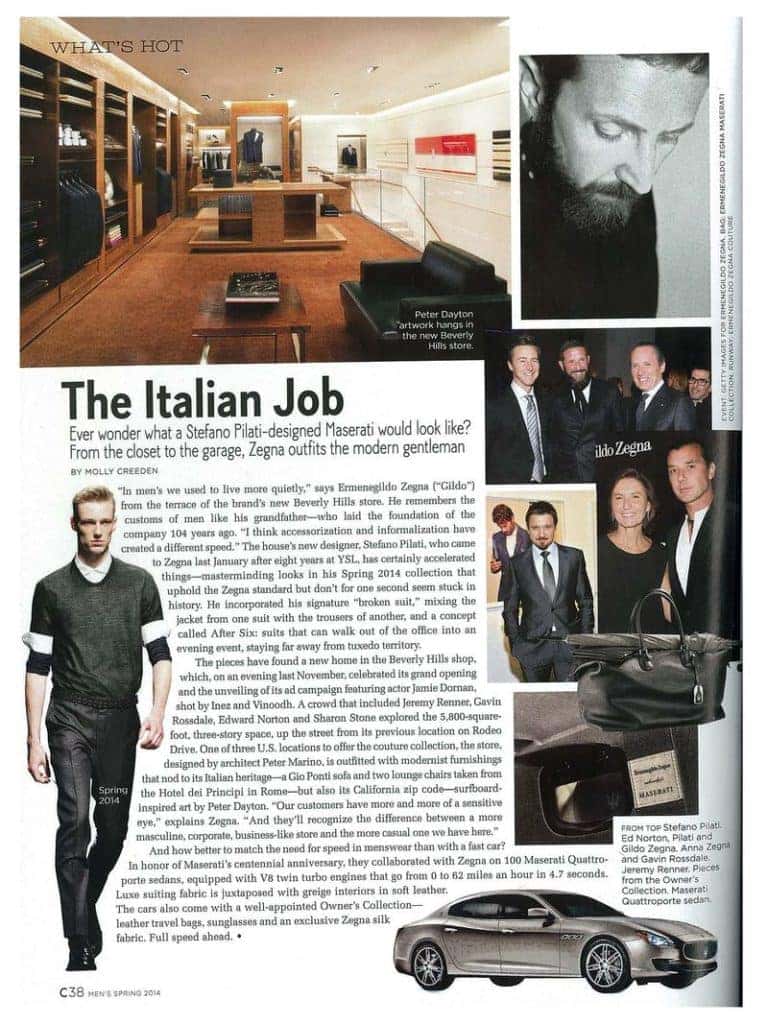 Robb Report (online): Love and Rockets
Maserati's 100th anniversary is a milestone for the marque and its most passionate collectors
Yahoo! Autos: July 2014 Car Sales: Five of The Big Six Surge
New-car sales surged ahead in July, with nearly all of the six largest carmakers represented in the U.S. reporting double-digit gains over last summer
Auto-Types: Maserati North America Sets New Sales Record
Maserati North America has broken their previous sales record this July… Sales were driven by the Ghibli and Quattroporte sedans, which are the current and local favorites. With the introduction of the Alfieri 2+2 Concept, Maserati plans on further leveling the playing field with competing products. The Alfieri is the much anticipated vehicle right now and is to make an official debut at the Monterey Car Week later this month.
EVENTS
Jet Set Magazine: Maserati Brings 100 Years of its Past, Present and Future to Monterey Car Week
The world of motoring is readying for Monterey Car Week (August 11–17) where Maserati will take center stage and celebrate 100 years of engineering, style and automotive excellence.
Digital Trends: Maserati Alfieri Concept Will Mingle with the Classics at Pebble Beach
Maserati is celebrating its 100th anniversary this year, and what better place to do that than the hallowed ground of classics cars that is the Pebble Beach Concours d'Elegance
Auto Evolution: 1952 Fiat Hauler Headed to Monterey Motorsports Reunion
From 1953 to 1957, Maserati used the exact 1952 Fi8at 642 transporter
Classic Cars.com: Riverside automobile museum celebrates Maserati's 100th year with expert guest
The Riverside International Automotive Museum celebrates the 100th anniversary of Maserati with a special reception and dinner for Adolfo Orsi Jr., one of the foremost authorities on the history of the famed Italian marque.
Luxury Daily: Maserati continues centennial bash as featured marque of Monterey Car Week events
As part of its ongoing centennial celebrations, Italian automaker Maserati is gearing up to highlight its past, present and future during Monterey Car Week Aug. 11-17 in California.
MENTIONS
Hamptons Magazine: Art Southampton Coverage