Maserati Trailer Hitch And Travel Accessories
Levante Genuine Accessories: To be distinct among those who stand out

Specifically conceived to satisfy our customers' needs…
Maserati Genuine Accessories are a ideal combination of design and functionality.
The Maserati branded Transportation and Cargo accessories such as the Roof Box, Bike Carrier, and Luggage Compartment Mat have been developed to take full advantage of the spaciousness and functionality of the Levante in any situation. The Care and Protection accessories are designed to protect the beauty of the Levante for years of motoring. Safety accessories provide peace of mind in any type of emergency. While Comfort & Communications and Tire & Wheels round out the Levante accessories range.
Levante Genuine Accessories – Transportation & Cargo
Roof Cross Bars

The Roof Cross Bars are an essential element for installing the right equipment for trips and sports outings, with a low profile that stays close to the vehicle roof. The use of aeronautical technologies and wind tunnel testing have reduced aerodynamic noise and drag force to a minimum. The bars are made of aluminum and the rail anchoring system is fast and simple.
Levante Genuine Accessories- Transportation & Cargo
Roof Box

The spacious Roof Box has been optimized to combine style and space. Lightweight and aerodynamic, the box boasts a volume of 410 liters, dramatically increasing the loading capacity of the Levante. The box has a double opening system which simplifies loading and unloading under any conditions.
Roof Box Lift & Load System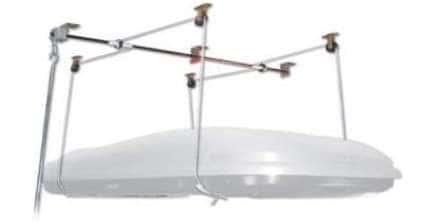 The Roof Box Lift & Load System is a very practical and versatile system for quickly installing and removing the box. The system actually enables the box to be easily lifted from the car roof and secured to the garage ceiling, so that it can be quickly installed when required.
Tow Hook & Skid Plate Retrofit Kit for Levante
High performance under all conditions and for each individual need, practicality, and functionality perfectly combined with sports style, elegance, and care for details. These are the features that make the Maserati Levante a unique and incomparable SUV.
Designed and made available as essential and characterizing elements of this vehicle model, the Tow Hook Retrofit Kit and the Skid Plate Retrofit Kit for Levante are the ideal solutions to meet a variety of transport needs and at the same time reflect the distinguishing style of the vehicle.